MILPITAS, Calif.– TurnOnGreen, Inc. ("TurnOnGreen" or the "Company"), announced today its successful execution of a nationwide electric vehicle ("EV") charging station deployment. This rollout is in collaboration with North American Vehicle Services ("NAVS"), a national automotive press fleet management service provider, and California-based Page One Automotive ("Page One"), a premier automotive fleet and event management services firm. The Company is actively installing numerous EVP1100 Level 2 EV chargers at 14 strategic locations across the United States. This project aims to create a well-connected charging infrastructure and provide comprehensive usage reporting, thereby supporting the needs of these automotive service industry leaders.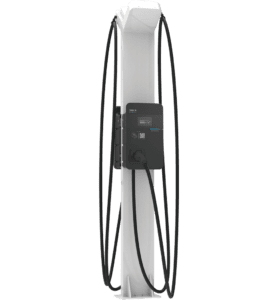 NAVS, specialist in press fleet logistics and management, collaborate with leading fleet and event management partners, such as Page One, across the United States. They deliver cutting-edge IT solutions for web-based reporting and operating systems to global automotive manufacturers. Page One has established its reputation as a leading provider of fleet management, event services, and logistics solutions for the automotive industry. Upholding their commitment to reliability, safety, and efficiency, they have built a nationally recognized brand in transportation services. Leveraging their three decades of industry experience and operational acumen, Page One maintains a fleet of approximately 500 vehicles and provides event management services in 14 U.S. cities to an array of auto manufacturers and their corporate teams.
"We're thrilled to collaborate with the teams at NAVS and Page One to expand their EV charging infrastructure and bolster their dedication to cutting-edge data management, sustainability, and e-mobility," said TurnOnGreen President Marcus Charuvastra. "Our growth strategy is heavily focused on delivering tailored fleet management charging solutions to fleets of all sizes across North America."
TurnOnGreen offers scalable EV charging solutions to homes, businesses, and fleets across North America. The Company's electric vehicle charging hardware, management software, and network services allow municipalities, businesses, and homeowners to monetize, track and report EV charger usage. TurnOnGreen charging systems maintain high standards in the market, are Energy Star Certified, and are backed by an internationally recognized certificate of safety and performance.
"TurnOnGreen holds a distinct place in promoting the widespread adoption of electric vehicles across multiple industries," said Amos Kohn, Chief Executive Officer at TurnOnGreen. "Our commitment to sustainability, innovation, and customer service fosters a favorable business environment that is poised to continue generating mutually beneficial strategic partnership opportunities."
According to Allied Market Research, the global electric commercial vehicle market is projected to reach $558 billion by 2031, growing at a compounded annual growth rate of 29.9% from 2022 to 2031. Concurrently, data published by Bobit Fleet Group Research estimate that there are over 19,000 fleets currently operating in the United States, with over 3.2 million vehicles in operation.
About TurnOnGreen
TurnOnGreen Inc. (OTC: IMHC) designs and manufactures innovative, feature-rich, and top-quality power products for mission-critical applications, lifesaving and sustaining applications spanning multiple sectors in the harshest environments. The diverse markets we serve include defense and aerospace, medical and healthcare, industrial, telecommunications and e-Mobility. TurnOnGreen brings decades of experience to every project, working with our clients to develop leading-edge products to meet a wide range of needs. TurnOnGreen headquarters are located at Milpitas, CA; www.TurnOnGreen.com.