MILPITAS, Calif.– TurnOnGreen, Inc. ("TurnOnGreen" or the "Company"), announced today it has initiated the deployment of multiple FSP1200 120kW DC Fast Charging ("DCFC") units for Key Solar LLC ("Key Solar"), a Holliston, Massachusetts based client. The first DCFC is scheduled to be installed in the fall of 2023 at Tuscan Village, a regional mixed-use destination located in Salem, New Hampshire. The Tuscan Village DCFC installation aims to provide electric vehicle ("EV") drivers in the region with convenient access to high powered charging solutions at affordable prices.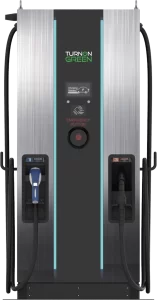 TurnOnGreen's FSP1200 / 120 kW EV Charging Station 7" LCD Screen Dynamic LED Light Status Indicators CCS, CHAdeMO and GB/T RFID Card Capable/QR Code Capable Credit Card Reader Optional Optional cable management accessories Support smart charging and load balancing Efficiency > 94%;PF > 0.99(APFC) User-friendly On-Screen Interface OCPP 1.6 JSON IK10(Not including screen and RFID module), IP55 Multiple Authentication Methods – Web, RFID, or TurnOnGreen App.
Key Solar participates in the commercial solar installation industry in New England. Founded in 2016, Key Solar provides design, development, finance, installation, and management services for commercial solar and EV charging systems.
"We are honored to join forces with this dynamic solar installation company based in the Northeastern United States, which empowers us to deliver top-quality EV charging equipment and network services for commercial projects in the region," said TurnOnGreen President Marcus Charuvastra. He further emphasized, "Forging strategic alliances with prominent solar companies to facilitate the distribution and seamless installation of cutting-edge EV charging systems stands as a key component of our growth strategy." Additionally, Charuvastra highlighted, "Our strategic partnership with solar companies in the distribution and installation of EV charging systems exemplifies our unwavering commitment to sustainable growth and expanding accessibility to EV infrastructure."
TurnOnGreen offers scalable EV charging solutions to homes, businesses, and fleets across North America. The Company's EV charging hardware, management software, and network services allow municipalities, businesses, and homeowners to monetize, track and report EV charger usage. TurnOnGreen charging systems maintain high standards in the market, are Energy Star Certified, and are backed by an internationally recognized certificate of safety and performance.
"The adoption of EVs in the United States' Northeastern region is growing quickly, and TurnOnGreen is at the forefront, ready to meet the rising demand for accessible and reliable charging infrastructure by offering a diverse range of charging solutions to EV drivers where they need them the most," said Amos Kohn, Chief Executive Officer at TurnOnGreen.
About TurnOnGreen
TurnOnGreen Inc. (OTC: IMHC) designs and manufactures innovative, feature-rich, and top-quality power products for mission-critical applications, lifesaving and sustaining applications spanning multiple sectors in the harshest environments. The diverse markets we serve include defense and aerospace, medical and healthcare, industrial, telecommunications and e-Mobility. TurnOnGreen brings decades of experience to every project, working with our clients to develop leading-edge products to meet a wide range of needs. TurnOnGreen headquarters are located at Milpitas, CA; www.TurnOnGreen.com.