MILPITAS, Calif.– TurnOnGreen, Inc. ("TurnOnGreen" or the "Company"), announced today its collaboration with T&M Group SJ LTD ("TMG"), a Best Western franchisee, to provide electric vehicle ("EV") charging equipment and services across three hotel properties in Newfoundland and New Brunswick, Canada. TMG will install the Company's propriety multiple networked EV700G, level 2 EV charging stations, capable of adding 27 to 32 miles of range per hour. The EV chargers will be integrated into the TurnOnGreen network, and the Company will provide remote operational and technical support to each hotel and EV drivers who utilize these locations for charging.
The TurnOnGreen chargers will be installed at the following hotels:
TMG is a property development and ownership group specializing in creating exceptional corporate and leisure experiences for both business and vacation travelers. Since 2015, TMG has developed three Best Western hotel properties in the Eastern region of Canada.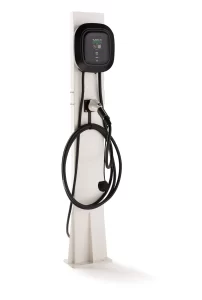 Dual EVP700 by TurnOnGreen Modern, Ergonomic Design Universally Compatible J1772 Connector (Tesla Adapter Required) UL listed for electrical safety, NEMA 3R Protection for Indoor and Outdoor Installations Flexible 16' cable to minimize clutter and potential cable damage. Certified to function at temperatures between -22 °F to 122 °F Wall and Pedestal Mountable Multiple Authentication Methods – Web, RFID or TurnOnGreen App Network functions optional.
"We are pleased to add TurnOnGreen EV chargers to our portfolio of properties and demonstrate our commitment to the environment, sustainability, and the growth of e-mobility across Canada," said Madeleine Leveque Toner, Co-owner of TMG. "We believe that increasing access to EV charging will provide our EV driving guests with the very best travel experience."
TurnOnGreen provides flexible EV charging solutions tailored to meet the needs of hotel owners and their guests throughout North America. The Company's state-of-the-art EV charging equipment, management software, and network services enable hotel owners to monetize, monitor and report on the usage of EV chargers.
"TurnOnGreen has experience working with several member owned Best Western properties to provide custom EV charging solutions at affordable rates to property owners," stated Marcus Charuvastra, President at TurnOnGreen. "As a member owned Best Western endorsed supplier of EV charging equipment and services, we are committed to helping each location develop an EV charging program that fits their unique needs."
According to the 2023 S&P Global Mobility Sales-based Powertrain forecast, released August 2022, the market share for Zero Emission Vehicles in Canada is projected to continue to grow and reach 11.3% for 2023, or 1.6 million vehicles in Canada. According to the latest quarterly Canadian automotive report from S&P Global Mobility, battery-electric and plug-in hybrid vehicles accounted for 10.2% of all new vehicle registrations in the fourth quarter of 2022.
About TurnOnGreen
TurnOnGreen Inc. (OTC: IMHC) designs and manufactures innovative, feature-rich, and top-quality power products for mission-critical applications, lifesaving and sustaining applications spanning multiple sectors in the harshest environments. The diverse markets we serve include defense and aerospace, medical and healthcare, industrial, telecommunications and e-Mobility. TurnOnGreen brings decades of experience to every project, working with our clients to develop leading-edge products to meet a wide range of needs. TurnOnGreen headquarters are located at Milpitas, CA; www.TurnOnGreen.com.